FROM NRHA PRESS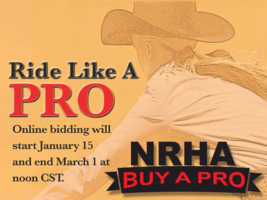 By Christina Brezack & Hayley Lewallen – The National Reining Horse Association (NRHA) is excited to announce that the Buy A Pro Program officially starts in 2015! Buy A Pro is an innovative online auction that connects riders with one-on-one lessons from NRHA Professionals, and replaces Regional Clinics as the primary funding mechanism for National Reining Horse Youth Association (NRHyA) activities.
Bidders will have the opportunity to bid on NRHA Buy A Pro training packages from January 15 until March 1 at NOON CST. Participants can bid and have a chance to win as many packages as they would like. In an effort to introduce more people to the sport of Reining, an NRHA membership is not required to bid!
Participating NRHA Professionals have donated training packages consisting of two training sessions to be auctioned, and all of the proceeds will help provide scholarships and new opportunities for NRHyA's young reiners. Currently, there are more than 60 packages up for grabs from NRHA Professionals ranging from NRHA Million Dollar Riders to beginning professionals.
Winning bidders will have an exceptional opportunity to polish reining skills or be introduced to a new hobby with some of the industry's top professionals.
"It is fascinating to see NRHA Professionals actively involved in growing the sport of Reining. Beginners and accomplished riders alike will benefit from attending one of these private training packages on location at a professional's facility," said Hayley Lewallen NRHA Sr. Coordinator of Marketing and oversees the NRHyA.
Each package will include:
2 (two) training sessions
1 (one) stall free of charge for buyers horse to use during the training sessions
For more information about this groundbreaking effort to introduce tomorrow's reiners to the sport of Reining, visit nrha.com/buyapro.
About NRHyA
Since 2001, young reiners in the National Reining Horse Youth Association (NRHyA) have benefited from their membership through college scholarships, learning experiences from some of the top Reining trainers, life-long friendships and a whole lot of FUN along the way.
NRHyA fosters leadership qualities and provides our young members with a roadmap for success they can use to guide them through their future career plans.